<![if !vml]>
<![endif]>

How to do FTE
Always make sure you have the latest release of STUREC© installed. If not sure, at the STUREC© Main menu press Alt-V and observe the "Build Date" at the bottom of the screen. Compare this to the build date on the Update page. If you need an update, see Installing an Update.
Because counting FTE is a process not an event, it is difficult to make an itemized list of steps to be performed, but let's give it a try anyway by grouping some steps.
Preliminary Steps
Go to Menu:7.1.Manage Enrollment Periods and type in the year to manage. More on Enrollment Periods.
Verify that your Fall enrollment period is set up as a Semester and that it begins before the fourth Wednesday in September and that the Count Date is set to the date of the fourth Wednesday in September and that the ending date is after the count date. The Winter enrollment period must begin on or before the second Wednesday in February, the Count Date is the second Wednesday of February and the semester must end after that. If you are running a July or April enrollment periods, the Count Date is the fourth Wednesday in the respective months.
Go to Menu:7.3.4. FTE Hours Required, make sure that the AGE break is set to 20, make sure that the Participant hours are set to 450 and the Pupil hours are set to 1098. If your district has a special waiver for a different number of Pupil hours, enter that number here. Select 2 decimals of accuracy for FTE calculations and answer Yes to the Help with rule-checking question. Please say No to Make-up hours.
Go to Menu:5.8.1. Recalculate Classes and put in the code for your Fall or Winter semester as appropriate.
Next, go to Menu:5.8.2. Recalculate Students and type in A for Attendance and Enrolled Hours. Calculate for your Fall or Winter semester.
Group Two Steps
Go to Menu:8 FTEREC System Menu
Select 2. Print Student Worksheet, you will be asked to choose a Funding Source (PUP or PAR or SRT), enter the code of the Semester you are working with.
Press N to choose the Narrow 6 week display (only choose 12 weeks if you are prepared to load wide green-bar paper in your old dot-matrix printer) or have a Landscape printer selected.
Enter 1 or 2 for how many weeks before Count Date. Verify the date to begin the display.
A SELECTIONS box will pop-up next, press Esc to not make any selections.

Answer the questions regarding SSN and phone number as appropriate.

Press Enter Enter to print the entire Alpha range

You may send the report to the Printer or a File.
This "Worksheet" will list your students along with their date of birth, age as of September 1st, Enrollment codes, Funding Code and Grid Code. Then it will list each class, the date enrolled in that class, the calculated FTE value for that class, the Actual FTE value (if you have already audited) and a six week pictorial view of attendance and at the end of the line something called a Fail Code. This fail code should be referenced to the list at the end of the report which will give you the reason why the student may or may not be able to counted in that particular class.
Group Three Steps
Go to Menu:8.1. Audit Student Worksheet, you will be asked to choose a Funding Source (PUP or PAR or SRT), enter the code of the semester you are working with.
Answer Yes when asked if you want STUREC© to help you with Rule Checking.
You will be asked if you want to audit Automatically or Manually. If you choose Automatic, STUREC© will
use the rules as it interprets them and apply them to each student class based upon the attendance you have entered and any other information that it may need from elsewhere in the student record. This is a very conservative approach.
Answer M for Manual and you will be asked if you want to make any selections, press Esc to not make any selections to limit your view of your students.
You will be asked for a name to start, just press Enter Enter and STUREC© will show you the first student
and all of the information you need to determine if the student may be countable in each class.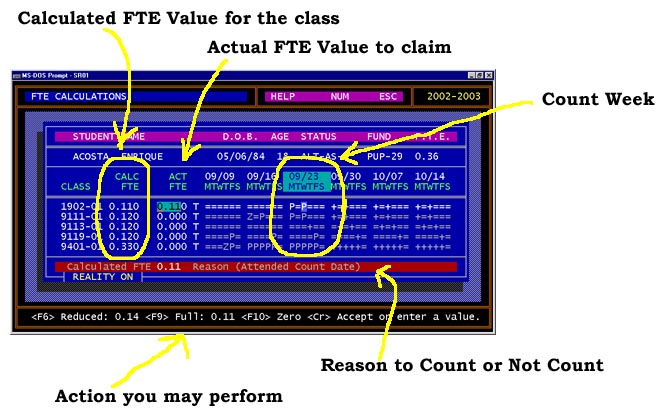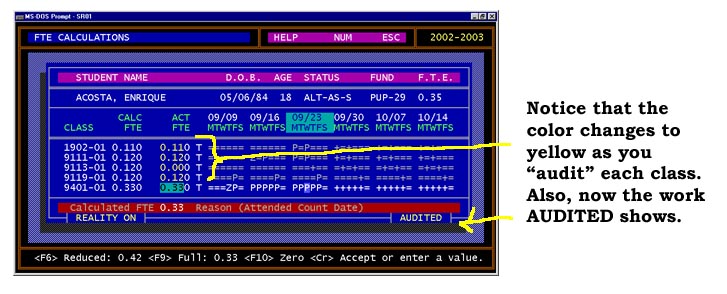 The color change of the values in the Actual FTE column indicates that a "human" made the decision, and not the STUREC© Automatic mode.
When you are finished with this student, you screen may look something like this.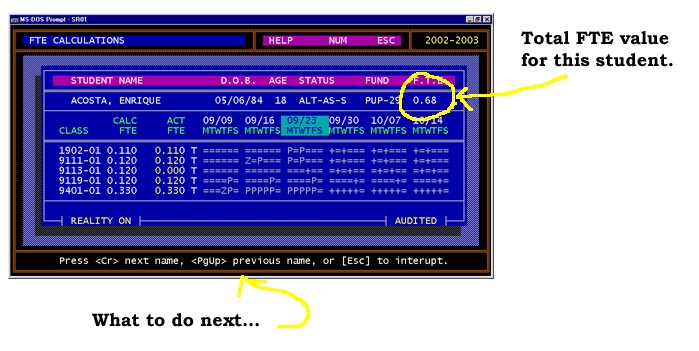 Please note that if the total FTE value for all of a student's classes should add up to over one, STUREC© will automatically cap the value at 1.00 in the next step. All you need do is press the Enter to get the next name and continue the process.
Now, obviously you cannot finish the process completely until after all of the attendance for the thirty days following the count date has been entered. Some folks choose to have STUREC© do the audit process in Automatic mode during the 30 days after count date then sit down and do a final Manual audit.
Group Four Steps
Go to Menu:8.4. Create Bedsheet Print File, you will be asked to choose a Funding Source (PUP or PAR or SRT), enter the code of the appropriate Semester.

You will be offered the opportunity to change the bedsheet file extension, we suggest you use the default provided (it will be either one of the funding codes.)

If you are doing Pupils, you will be asked if you need to "flag" pupils absent on the count date. This is only to make some weird ISD auditors happy. Answer as appropriate.
This operation will create a special file that will be used to print the various styles of final reports that you may need. When the operation is finished, in addition it will produce the DS-4061-A summary. This is the beast the boss wants yesterday. This summary report has two pages, the first page reports FTE values and the second page reports Headcount.† Headcount is NOT required, but some auditors donít know this.
Important note: Each time after you perform the Group Three steps of auditing (or editing) student FTE values, you must re-do these Group Four steps. It is this process that takes the changes you may have made in the Group Three steps and makes them available for the Group Five steps - printing.

Group Five Steps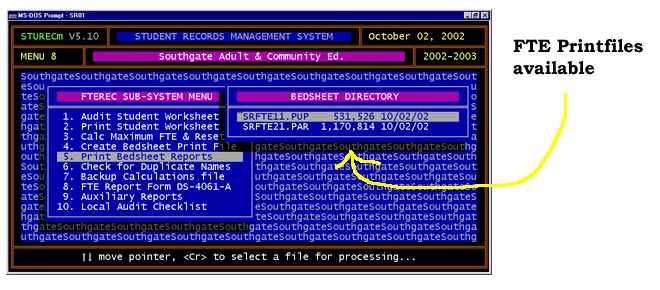 Then you will be asked a series of questions about what stuff to include in the report, answer as needed. then you will see this list of options.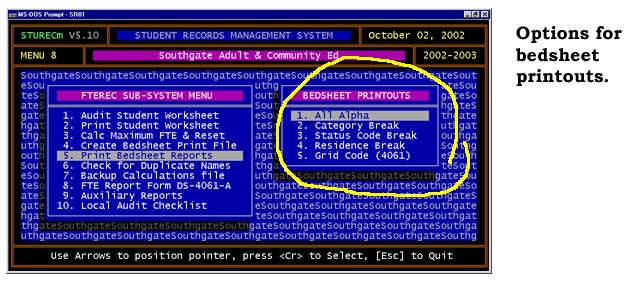 These "Bedsheet" reports are what its all about. The only one you really need is the 1. All Alpha, the rest of the options are just to make your life a little easier.
Now you may want to check out some of the Auxiliary reports.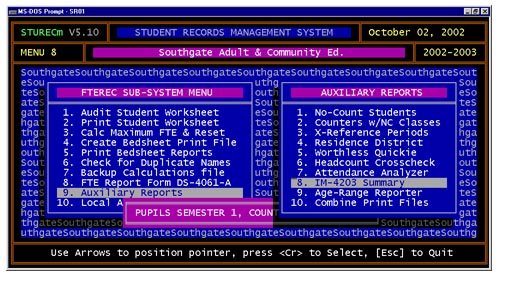 This is where you will find the IM-4203 Summary report needed only for Pupils and is no longer required. Try the other reports. You can't hurt anything and you will find some of these report helpful.
When it is time for your ISD auditor to visit and do their "desk audit", you will find this menu handy.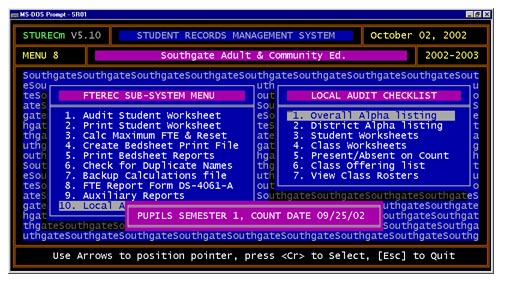 For Pupils you will want to run options 1 through 6, and for Participants do the same, but skip number 2. It is not required for adults. Take this pile of paper into a quiet room with the auditor, bring in a cup of coffee and say "Call me if you need me." and leave the room. The auditor will have everything they need to do their job, and make your life easier.

Final Audit Loop steps
This sequence of steps may be performed as many times as necessary, but always in this order.
From the FTEREC Sub-System menu, select 1. Audit Student Worksheet. Select Manual and make whatever adjustment are necessary.
Now you can perform 4. Create Bedsheet Print File, at the end of which you will get the DS-4061 A Summary.
Note: Remember that after you make any changes or adjustment through number 1. Audit Student Worksheet, you must perform number 4. Create Bedsheet Print File again to pick up the changes.
The next step, at least the first time through the process, should be option 6. Check for Duplicate Names to make sure that you don't accidentally have any duplicate names in your files that could come back to embarrass you later.
Now you can go to option 5. Print Bedsheet Reports. If you have created more than one bedsheet printfile, you will be asked to pick the one you want to print. Then you will be asked if you want Course codes on the Alpha sheet. Note that course codes are only available on the alpha report.
Note: This is the wide bedsheet report. All of the reports for Pupils will print on standard 8-1/2" x 11" paper in normal portrait mode. The reports for Participants are designed to be printed in landscape mode on standard 8-1/2" x 11"paper. There are two ways to accomplish this .
If you wish, you may setup your laser printer to accept Legal length paper in Landscape mode. If you do this, don't forget to set the printer lines per page to between 40 and 45. (Do this thru Menu:7.3.2.3. Define Printers.

You may temporarily select the "L" Landscape printer long enough to print the Participant bedsheet reports. To do this, make sure you have any menu on screen and press Ctrl-K. This will bring up the currently selected printer and you will be asked if you want to Change printer or Modify. Press "C" to change printer then select "L" when prompted.
Don't for get to change back to your normal (Portrait) printer when finished with the bedsheets. The bedsheet for Participants is the only report in STUREC© requiring landscape mode.
Sorry, but MicroData Systems cannot help you setup your laser printer for this.
Auxiliary Reports
The FTEREC Sub-System menu option 9. Auxiliary Reports offers a number of useful reports helpful in analyzing your overall count.
1. No-Count Students - will print all students who were enrolled but did not count for any FTE value in the selected enrollment period.
2. Counters with w/NC count classes - will print all students who were enrolled and counted for FTE in one or more classes, but not all classes.
3. X-Reference Periods - will print a report cross referencing actual FTE values for students enrolled in more than one period.
4. Residence District - will print an alpha listing of students within each residence district with subtotals after each district break.
5. Worthless Quickie - will count all possible classes for all enrollment categories for the selected Funding source and selected period. These are Un-Audited figures and are Not Correct! Do not rely on these figures...
6. Headcount Crosscheck - looks like the DS-4061 A except it counts heads instead of FTE values.
7. Attendance Analyzer - will give you listings of the following:
Absent ON Count Date

Present ON Count Date

Present ONLY on Count Date

Present Before and Present After Count Date

Present ONCE Before and ONCE after Count Date

Excused Before and Present After Count Date

Excused Before and Present ONCE After Count Date

Counted with ONLY One Present (on Count Date)

Counted and Present in 10 days after Count Date

Counted and Present in 30 days after Count Date
8. IM-4023 Summary - will examine only students enrolled as Alternative and funded as Pupil, counting Gender and Ethnic group for Total Headcount, not-counted for FTE, counted for FTE with value and totals.
9. Combine Print Files - for the brave of heart. This will allow you to combine multiple enrollment periods into one master printfile. You will identify duplicates so that FTE values can be adjust between and among periods and capped at 1. This is only significant for Pupil funded students and is probably only important if multiple enrollment periods share the same count date.
Local Audit Checklist
Option 10. Local Audit Checklist found on the FTEREC Sub-System menu is primarily a guide to help you get all the reports an auditor may request to see. It contains two important reports that cannot be obtained elsewhere. More on preparing for local ISD audit.
1. Overall Alpha Listing - will print an overall alpha listing of all the students in your selection criteria whom you have claimed for Membership of Participation. This is a simplified version of the standard bedsheet report.
6. Class Worksheets - will print class FTE worksheets showing student name, enrollment category, funding and grid code along with actual FTE value. This is similar to the student worksheet, but on a classwise orientation.
---
Information in this document is subject to change without notice.
All products mentioned are registered trademarks or trademarks of their respective companies.

Questions or problems regarding this web site should be directed to info@sturec.com.
Copyright © 2005 MicroData Systems, Ltd.. All rights reserved.