If your computer has a CD-burner, and the proper drivers (i.e. DirectCD) are installed, you can use the CD-burner as the target drive when performing the regular daily STUREC© backups. If you do not have DirectCD installed, you must use the CD Authoring software that came with the CD Burner. The following instructions serve as an overview to the basic process. Exact procedures will vary among the various CD Authoring software currently on the market.
As allways, we recommend you use different media each time you back up. Therefore, you should get five blank CD-RW (Re-Writable), and label them 'Monday', 'Tuesday', etc. Each one will need to be formatted as a 'multi-session'. Generally, this task is performed via a wizard will automatically pop up when blank media is inserted. See the documentation that came with your CD-Burner (or your local IT department) for in-depth instructions, as there are simply too many varieties and versions of CD-Burners and related software to discuss here.
First, we recommend you configure STUREC© to do backups using Zipfile w/Date. Here's how:

Go to menu:7.3.9. Define Backup Proc. and select 2. Compressed File w/Date.

Choose 1. PkZip.

Enter the drive letter assigned to your CD-Burner..

Now, with the appropriate day's CD inserted, go to menu:7.7. Run Backup Procedure. When the files have been copied and compressed, STUREC© will ask you to verify the target drive on which to copy the backup.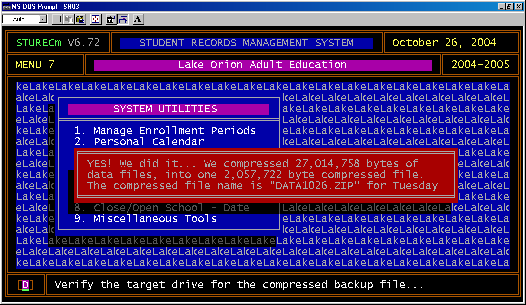 And now the backup is complete!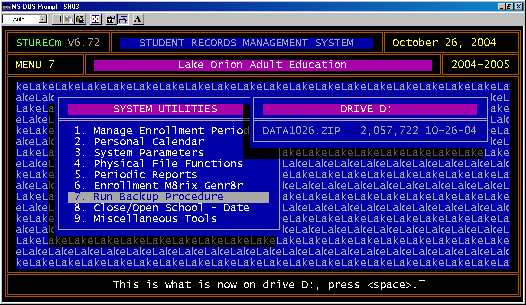 You can check the available space on one of these CD's by opening the My Computer icon, right-clicking on the CD-Burner drive, and selecting Properties from the pop-up menu.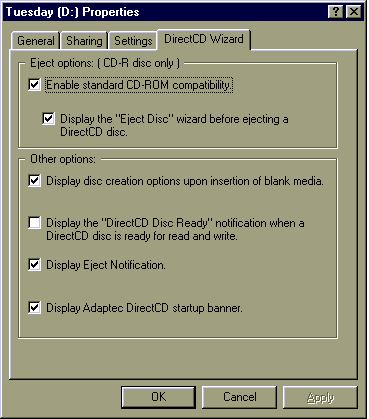 NOTE: This document is intended only as a conceptual guide to assist you and your local IT department in utilizing re-writable CD technology for your routine data archival needs.